Fri Dec 20, 2013 at 03:37 PM PST
Think Progress
reports that BP and Chevron have been illegally dumping toxic waste, including radioactive waste, into the waters of Louisiana.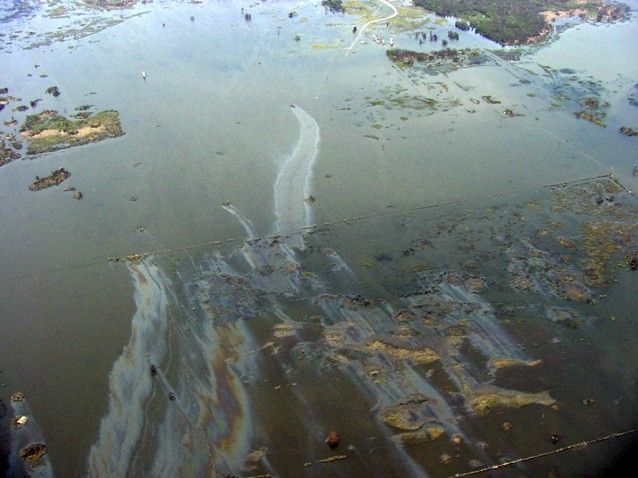 CREDIT: AP Photo/Louisianian Department of Environmental Quality
This is just outrageous. The fossil fuel industry has zero regard for the American people. I hope the parish wins and wins big.
The Louisiana parish of Plaquemines is taking on a group of oil and gas giants including BP and Chevron for allegedly dumping toxic waste — some of it radioactive — from their drilling operations into its coastal waters, according to a lawsuit removed to federal court on Thursday. Plaquemines Parish is claiming the companies violated the Louisiana State and Local Coastal Resources Management Act of 1978 by discharging oil field waste directly into the water "without limitation." Worse, the companies allegedly failed to clear, revegetate, detoxify or restore any of the areas they polluted, as required by state law. The oil and gas companies' pollution, along with their alleged failure to adequately maintain their oilfields, has caused significant coastal erosion and contaminated groundwater, the lawsuit said.

snip
Plaquemines' suit says BP and Chevron should have known that the oilfield wastes, referred to as "brine," contained "unacceptable and inherently dangerous" levels of radioactive materials called Radium 226 and Radium 228. According to the Nuclear Regulatory Commission, small amounts of Radium 226 were once used as an additive in toothpaste, hair creams, and even food items due to supposed beneficial health properties. Those products soon "fell out of vogue," however, after it was discovered that the health effects were exactly the opposite of beneficial. Long-term exposure to radium also increases the risk of developing several diseases, including lymphoma, bone cancer, leukemia and aplastic anemia, according to the EPA.
Radium emits both alpha and gamma radiation, the former of which is detrimental if taken into the body through inhalation or ingestion — a real concern considering the alleged water contamination. According to the Environmental Protection Agency, about 80 percent of the radium that is swallowed will promptly leave the body through feces, while the other 20 percent enters the bloodstream and accumulates preferentially in the bones. Some of that radium will remain in the bones throughout the person's lifetime, the EPA said.