Roberta Estes – Where Have all the Indians Gone?
On Saturday, March 14, 2009, Roberta Estes delivered a presentation entitled "Where Have All the Indians Gone" to members of the International Society of Genetic Genealogy (ISOGG) who were present for the Family Tree DNA 5th International Conference on Genetic Genealogy for Project Administrators.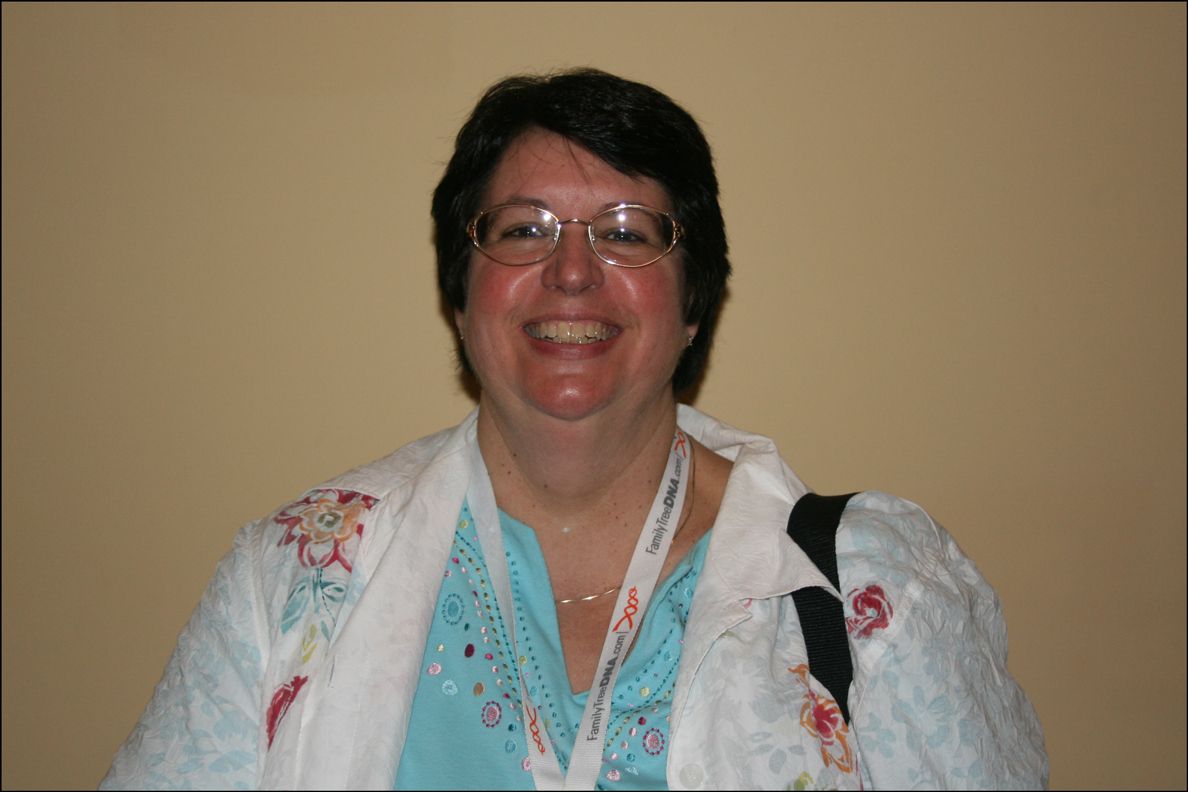 Roberta Estes
SOURCE: Roberta Estes (Houston, Harris County, Texas). Photographed by Stephen J. Danko on 14 March 2009.
In her talk, Roberta discussed the fate of Native Americans and their DNA after the arrival of Europeans in the Americas.
The Melungeons arrived in Claiborne/Hawkins Counties in about 1800. In a trial over voting rights, the Melungeons claimed they were "not Negro", but rather Portuguese and Indian. The decision of that trial was in their favor, but recent analysis of Melungeon DNA reveals that their core DNA is European and African, with no native haplogroups. All mtDNA samples are European.
The Lost Colony was the first known prolonged contact between Europeans and Native Americans. The colonists may have survived by being assimilated into native tribes. Research into the Lost Colony has resulted in a database with over 5000 entries and a timeline of over 1000 pages.
Beringia, the exposed land between Alaska and Siberia over which man is thought to have first entered the Americas created a bottleneck at the end of the last glacial maximum. The genetic groups in the Americas became isolated, resulting in Y-DNA haplogroups of C3 (rare), Q3 and M3, and mtDNA haplogroups of A2, B2, C, D, and X2a.
Native American tribes can be grouped into language families: Iroquoian, Algonquin, Siouan, and Muskhogean (east of the Mississippi). Virginia and North Carolina included three of the four language families.
Some large Native American tribes disappeared completely. The South Carolina tribes are all gone, although the Shawnee survived. Losses were due to intertribal warfare or warfare with the colonists, disease, the emerging slave market, and alcohol.
The result was that there were not enough males to sustain the tribes, and non-native Y-DNA was introduced into native populations.
In Bolnick, D.A., D.I. Bolnick, and D.G. Smith. 2006 Asymmetric Male and Female Genetic Histories among Native Americans from Eastern North America.
Mol. Biol. Evol. 23:2161-74
, the authors calculated 47% non-native DNA in families believing to be no less than 75% native.
Copyright © 2009 by Stephen J. Danko
Related Posts