by Betty Thomas Finger
Conclusions and speculations about
I must begin by apologizing for the delay. When I started my website in June of 2002, I had the basic foundation for this article, but I wanted to go back through my notes and verify everything. It was like opening a can of worms. The more I found, the more I needed to find. Then after my site went up, it was so much fun hearing from everyone related to the Marchant Thomas line that I diverted my time and attention to answering correspondence from visitors to my site. Now, so as not to neglect the article altogether, I have decided to present it in a progression of stages.
Some of the topics I will consider are: Who are

Marchant's

children and where were they born, Who was his wife and where were they married, Speculations on who

Marchant's

father was and who his wife's father was, and other topics, including the topic presented below in Part I.
As mentioned on my acknowledgements page, my knowledge of the

Marchant Thomas

clan began with

William Thomas

' work published in the

Clay County Ancestral News. From there I checked all possible sources in and around
Owsley County
,
Kentucky
(census records, land records, tax lists, vital statistics, etc.), including what

Arch

and

James Bowman

had compiled on the Thomases.

Judy Tate

(see some of her work at

Newton Co. AR) led me to the South Carolina Thomases and I have researched land and court records in the SC/NC area as well. The

Leonardo Andrea

collection at the South Carolina Archives was a big help there. I have tried to substantiate & build upon what these researchers have done and I continue in my quest for a clear perception of the truth. I will share my conclusions thus far with you and, in the years to come, any changes that will add to or alter these conclusions. Your input is welcome.
MARCHANT THOMAS VS ABRAHAM THOMAS
I feel that the most important issue involves the relationship of

Marchant Thomas

to

Abraham Thomas

. An error that has become widespread and continues to circulate is that

Marchant Thomas

is connected to the

Abraham Thomas

line. Although there are various reasons for this, the most influential one, I believe, is the book,

Thomas Family History 1385-1995 from
Wales
to
Eastern Kentucky
, Vol. I, by

Charles Thomas

(of the

Abraham Thomas

line). I first saw his information at the Clay County Historical Society in the publication

Family Histories of Letcher County. I have written to him more than once to get his answer to the question of what he based his connecting of the two Thomas families on, but have been unable to get a response.
It may be that he based it on nothing more than that the two men ended up in
Owsley
County
by 1844. *

Abraham

, b.1770, VA, came to
Kentucky
from VA whereas

Marchant

, b.1771, SC, came to
Kentucky
from SC via
Georgia
.

Marchant

showed up on the Clay County KY Tax List in 1808 (as

Marchant

Thompason).

Abraham

was already in KY by then, but he was in Madison County, 1807 (From Madison County Tax Books 1802-1814, Kentucky Historical Society, Reel # 73-0258, researched by Jim Cox).

Abraham Thomas

was never on the Clay County KY Tax Lists.
Togin Cassell
, an avid researcher and direct descendant of

Abraham Thomas

, had her family history handed down to her in a Family Bible and

Abraham's

son,

Isaac Franklin Thomas

, was said to be born 1806, in Owsley Co. (in 1806 that would be Madison County). The rest of the children were born in
Virginia
or in Estill, Lee or
Owsley
County
KY
(before Lee was formed in 1870 it was part of
Owsley
County
. Prior to Owsley's formation (1843), it was part of
Estill
County
). So the picture we get here is that Abraham's family lived in the area of what is known today as Lee or
Estill
County
. Marchant's children were born in NC/SC, GA, and Clay County, KY.

Marchant

owned property on Cow Creek in what is now Owsley County in 1821 and his son

Joseph

owned property on White Oak Creek in the south central part of Owsley since about 1835 (see map). As we look at this, we can see that the two men never lived in the same area together. It was not until 1850 that we even see their descendants living in the same county. So any conclusions based on their living close to one another do not stand up.
Another discrepancy in

Charles Thomas

' book that contributed to the belief that

Marchant

and

Abraham's

families were connected was to list

James Edward Siasee Thomas

as a son of

Marchant

. However,

Marchant's

son

James

is living next door to him on the 1830 Clay County KY Census and appears on the Clay County Tax Lists from 1820-1842, while

James Siasee Thomas

is in Ashe Co. NC having children born from 1821 to 1836 - all in
Ashe
County
.
There are other things that can contribute to the confusion if a researcher has not been thorough. On the 1850
Owsley
County
census, there is a

Joseph Thomas

household with

Abraham's

widow living with them, but this is NOT

Marchant's

son,

Joseph

. He is in Household number 587, probably on White Oak Creek. Whereas

Abraham's

son

Joseph

is in HH number 151, probably in the section that became
Lee
County
since, in 1870 when Lee was formed, he is on the
Lee
County
census. (See map below showing location of property owned by each Joseph in 1847).
Here's another snag: Someone might see

Isaac Thomas

on the 1850 Owsley County census and conclude that he is

Marchant's

son, BUT

Marchant's

son

Isaac

is in BREATHITT County, KY in 1850 and

Marchant

and

Jemima

are living

with

him. The

Isaac

in
Owsley
County
is in HH 141 which is only 10 dwellings away from the

Joseph

mentioned above in HH 151. There are other Thomases in that area as well, but you might notice that some of the older ones are born in
Virginia
. It is my experience that anytime we see
Virginia
as a birth place (on the
Kentucky
censuses), these are not the

Marchant Thomas

family.
Now someone might point to the similar names of the two Thomas families as an indication that they are related, but these names were very common names in
ALL
families of that time. What IS noteworthy is that NONE of

Marchant's

children are named

Abraham

nor any of THEIR children, in fact the name,

Abraham

, is found

NOWHERE

among the descendants of

Marchant Thomas

(down to this day, to my knowledge).
We must realize that Thomas is a very common English surname and conclude that there were simply OTHER Thomas families living in
Southeastern Kentucky
at the same time. In fact, there were MANY different Thomas families that ended up in
Kentucky
, and some of them came very early.
Attention Please. If you are using any data from my site, I would appreciate it if you would attach my name to it as the source. I have put a great deal of time and effort into separating the
Wheat from the Weeds
in my Thomas information. That's not to say it's infallible, but my conclusions are based upon extensive research. I have made every attempt to go to the
primary
source wherever possible, even going to the National Archives in
Washington
,
DC
to view original pension records. All of my sources are documented and I have tried to verify information given to me by others. You are welcome to use information from this site if you credit me as the source (can be in the form of a link to my site). Your cooperation in this will allow me to keep my site freely accessible to everyone.
Thank You
© 2003 Betty Thomas Finger
JamesWalters74

originally submitted this to
Walters Jr_1. Family Tree
on
15 Oct 2010
Betty Thomas Finger
http://www.marchant-thomas.com/index.html
I was born in
Kentucky
, the first child of Bill Elijah "Lige" Thomas and Mildred Louise "Mickey" Overman. Dad was born and raised on
Doe Creek Road
in
Owsley
County
until about the age of 16. His mother, Lona Sizemore, died in 1923 when Lige was 13 years old and by 1926 he and his dad, Lewis "Bud" Thomas, had moved to
Newport
,
KY.
It was there that Lige met and married my mother, Mickey, in 1946. It was a second marriage for both of them, Mom having 2 small children from her first marriage. They lived in
Newport
for four more years and then in 1950, having heard glowing reports about job opportunities in
California
, they packed up their belongings and they with their 5 small children, set out for
California
. I was 3 or 4 years old at the time. They settled in the small mountainous community of
Coarsegold
,
California
.
In 1954 Mom and Dad divorced and I was raised by Mom and my stepfather, Gerald "Jerry" Cross, in
Ahwahnee
,
California
, a small country town near the foothills of
Yosemite
National Park
. I didn't see much of Dad until years later when I was in my teens or pre-teen years. One thing that stands out in my mind about my visits with him at those times was his yearning to return to the hills of
Kentucky
where he grew up. Sad to say, he was never able to realize that wish, but it instilled in me the desire to someday go to his childhood home. Through the years he told us bits and pieces about his life in
Owsley
County
, mentioning once that we had a Cherokee grandmother somewhere in our line. (Doesn't everyone?) Later that tantalizing little bit of information would impel me to learn more.
In 1972 Dad died at the age of 62 without ever having returned to his beloved
Kentucky
home. As the years passed I became occupied with the all-consuming task of raising a family of my own. It was not until 1989 when my younger sister, Joyce, asked me about our Cherokee ancestry that my interest in family history was aroused again. I also began to think about how little I knew about Dad's family. None of us had ever met our grandparents on Dad's side since they were already gone before Dad married Mom. These two things became the motivating force behind my search for my family roots.
My search for family history led me to
Owsley County
,
KY.
First I learned what I could from the few living relatives that were remaining and got some facts I could start with. From that I was able to send for public records through the mail and I made weekly trips to the
LDS
Family
History
Center
where I scoured census records and vital statistics. When we made our first trip to
Owsley
County
, a cousin, Henry Sizemore, took us to the
Griffith
"Griffey" Cemetery, relating information he knew about various ones buried there and to Doe Creek road, known locally as "Thomas Holler". What a thrill it was to finally see the area where Dad had spent his youth, and we copied information from the headstones that were readable in the cemetery. While in
Owsley
County
, we visited the county library and examined the records available in their genealogy section. This helped to widen out my knowledge of the people I was kin to. Since that time we have made several trips to Owsley and other counties gathering information from historical societies and cemeteries, etc. And now we have

the Internet!

I have been able to make so many connections from cousins everywhere and, since posting my website on the internet, I have heard from many, many Marchant Thomas descendants. We also now have the

Owsley County History and Genealogy Society

which is growing in leaps and bounds, making available to researchers everywhere as much information as possible on
Owsley
County
genealogy and history.
In conclusion, I'd like to add that in a recent trip to
Owsley
County
, we found an adventuresome soul (James Bowman) who was willing to take us all the way up the left fork of Doe Creek road where Dad lived and played in his youth. We found what was left of the home where his grandfather, Elijah, had lived and I have

preserved

a piece of that homestead, in the form of a Daylily, that I transplanted here at my
Sacramento
home.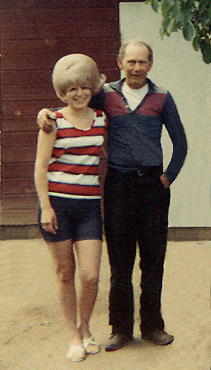 Dad, age 60, and me


(blonde wig & all!)


June 1970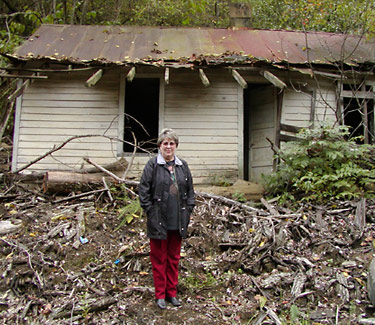 In front of what remains of the home where Elijah Thomas, b.1842, lived out his last days, taken October 2002